Pests have always been a nuisance in homes, but it is more than just a superficial disturbance for business owners and workers and costs more than imaginable.
Pests indirectly affect productivity, comfort and most of all, financial stability in any workplace.
It doesn't matter if you own a company space or a restaurant, thinking about maintenance and repair of materials damaged by pests, you are sure to be at a loss of money, time and sometimes, good health.
Unfortunately, that is what pests do.
They swoop in without regard to your business, home, and reputation, and they destroy your property, spook your clients and make life unnecessarily difficult for you.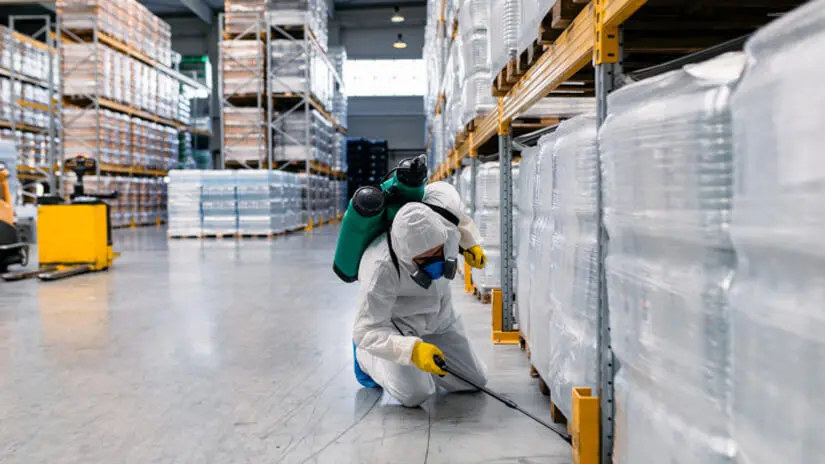 Cockroaches, termites, ants, spiders… it doesn't matter, they are all the same, and they are out to get you and put holes in your pocket unless you are willing to stop them for good.
Do not try to pity them for one second because these pests will not think for a second about ruining your business if you give them the chance to do so.
The case is worse for those in the hospitality and food industry as there are stringent regulations that compulsorily compel you to keep pests away from your products.
This is not, however, easily done without experience and efficient technology. Still, that isn't the least of it, and there are still a variety of reasons why your factory, storehouse or company is in dire need of pest management services.
Here are some of the problems you might have to deal with if you do not get your pest issues sorted out right now:
Poor customer service and experience
No sane customer would rate you perfectly if they had to deal with a spider or see a cockroach running around while waiting to be attended to.
Of course, you know customer ratings are important for you to gather more clout as a leading businessman in your industry, and negative ones can drag you down faster than you think.
So, if you do not want to give your customer an experience they would hate you for, you should start thinking about getting rid of the pests in your commercial property right now.
Spread of disease
If negative customer experience was not good enough to put a little fear in your system, maybe this will: pests can give you diseases that will cost you a lot of money to treat and a lot of pain when you have them.
Diseases are things you shouldn't wish to have for any reason, but if you harbour pests in your commercial property or home, you should be ready to deal with diseases constantly.
Instead of dealing with that, start thinking of getting the right set of people to get rid of your pests for you.
Believe it, and your health condition will be much safer.
The trouble with the government over health regulations
Even if you do not care about your health or the health of the people patronising your business, the government cares.
They have put certain laws and regulations that ensure you do not endanger the lives of other citizens by not taking care of your pest problems. If you follow these regulations and abide by them strictly, you will be good, but not obeying these health regulations could get you in serious problems with the government.
This should be enough reason for you to want to handle your pest problems, especially if you do not fancy getting your business closed down by the government.
Food Poisoning
Pests like a cockroach can climb all over your food and put their droppings on it, increasing the chances of you getting food poisoning.
If you are in the food and hospitality business, you do not want your business to have the reputation of one that poisons its customers (that is, if it is not closed down immediately after this is discovered).
Nobody wants that reputation, so think of how to get some professionals over to deal with your pest problems. The reputation of your business depends on it.
Destruction and damage of property
Termites can destroy your furniture and other wooden structures in your commercial property if you do not eradicate them as soon as possible.
Other pests can also bring down the business you have spent a lot of time and money building in a matter of months by causing damage to your property or causing you to pay a lot for maintenance and repair when you could have spent much less getting rid of these insects.
If you do not want to risk the heartbreak of getting your lovely business crumble, then you need to do something about the pests trying to bring you down and fast.
Now you have understood in clear detail the implications of leaving and harbouring pests in your commercial property, what can you do to ensure these pests are eradicated and taken out for good?
Truth be told, there is no single method to rid your workplace of all these pests, but every pest control process has to do with detection and treatment.
For example, termites are effectively detected using thermal termite detection and can easily be wiped out with termiticide as soon as you can detect their exact location.
Other pests like bedbugs require special attention, and cockroaches also require insecticides.
If you are not a skilled professional in pest control, you might have difficulty dealing with these tough processes.
In that case, you should contact skilled pest control experts to help you deal with these issues once and for all, so you don't have to worry about the stress of maintenance and battling regulatory bodies.
Give us a call for your commercial property pest control service today, and our team of professional pest control experts will make sure you never have to worry about these pests anymore.