It is a common attribute of people to attribute the damages fleas cause to be strictly restricted to pests.
This is unfortunately false as fleas can equally attack humans as well.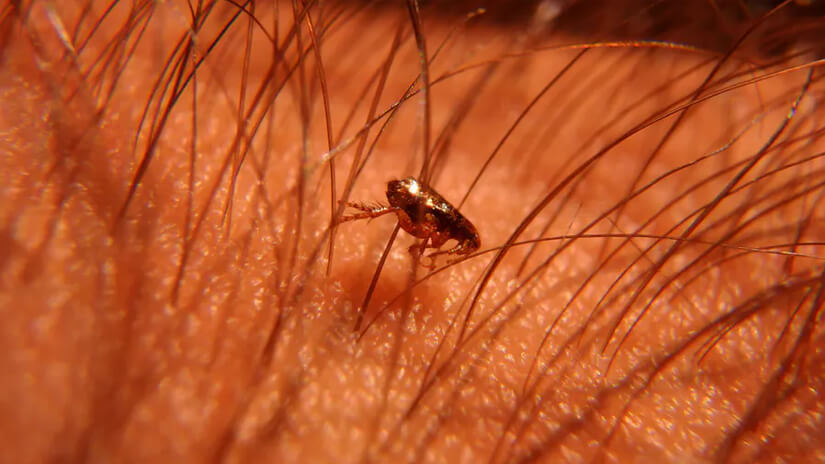 All you need to know about fleas
Firstly, it's important you are capable of identifying them but due to their incredibly small size and quick motions, it is quite difficult to identify them accurately.
By size, an adult flea would measure up to 2.4mm in length and the color is seen to be similar to that of common bugs which are somewhat reddish-brown.
They have a camouflage nature and their being wingless does not affect their speed as they cover huge distances by jumping. The basic signs of fleas can be noticed when your pets start itching their skin imminently.
A flea infestation is both irritating and dangerous to you and your loved ones so it is best you call a professional to take care of the problem as it might prove quite difficult for you to do.
Our services are specifically set up to provide you with professionals and experts in flea control that will efficiently get rid of any flea problem with time.
DIY flea management
There are a few simple strategies you can apply to both keep out fleas from your home and to control them to an extent but first, it is expedient to know that there are two versions of a flea infestation.
One is of the adult flea, which you can easily notice when you see them jumping around your pet or even you and this is usually triggered as a result of a vibrational motion from the flea's host.
The other is of the larvae, egg and/or pupae, which are the more difficult version to control as they are incredibly small and breed in obscure sections of your home. The following are tips to help handle or prevent a flea infestation from occurring;
To remove fleas, you can make use of a mixture of sliced lemon that has been boiled with water and thereafter, left through the night. Put the mixture into a spray bottle and apply it onto sections of your home you suspect or have confirmed fleas. You can also make use of a mixture of botanical dust and boric acid which is very effective and can be applied to furniture, beds of any kind and carpets. The basic precautions to take is to ensure you apply the mixture while having a mask on as well as cleaning up the applied places after leaving the property for at least 24 hours. There are a variety of other tips to keep fleas away or trap them like water and detergent mixture, cedar chips and applying fine grain salt to your carpet among other techniques.
Essential measures to keep fleas away are all generally based on making sure your property is kept tidy and your pets are regularly bathed and taken care of.
Although these tips are effective, they can both be tasking, as you might not know the exact location of the fleas, and they might not take care of the majority of a flea infestation.
That is why you need to contact professionals like us, who have years of experience in flea control to deliver expert services that will ensure your peace of mind.
Popular Suburbs